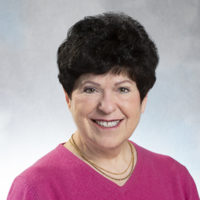 Director of Ambulatory Anesthesia| Brigham and Women's Hospital
Professor of Anesthesia | Harvard Medical School
Summary
Beverly Khnie Philip, M.D. is Professor of Anaesthesia at Harvard University and Founding Director of the Day Surgery Unit at the Brigham and Women's Hospital in Boston, MA. She received her undergraduate degree from Queens College, City University of New York, New York, the MD degree from Upstate Medical Center, State University of New York, Syracuse, NY, and completed the anesthesia residency and research fellowship at the Peter Bent Brigham Hospital, Harvard Medical School, Boston, MA.
Dr. Philip is the First Vice President of the American Society of Anesthesiologists (ASA), the professional society of over 52,000 US and international anesthesiologists. She recently served as ASA's Vice President for Scientific Affairs, with responsibility for all educational and scientific activities of the organization. Dr. Philip also has a strong interest and ongoing contribution to national anesthesiology policy, particularly related to quality and regulatory issues. Her service in ASA has also included the ASA Board of Directors representing Massachusetts, Chair of the ASA Quality Management and Departmental Administration Committee, Chair of the ASA Ambulatory Surgical Care Committee, and she was Chair of the ASA Annual Meeting for 2009. Dr. Philip is a founding member and Past President of the Society for Ambulatory Anesthesia (SAMBA), a national organization that promotes scientific progress in the subspecialty of ambulatory anesthesia. She has served as the Chair of the Joint Commission's Ambulatory Health Care Professional and Technical Advisory Committee, and on the Board of Directors and Standards Committee of the Accreditation Association for Ambulatory Health Care. Dr. Philip was a founding participant of the CMS Advisory Panel on Ambulatory Payment Classification Groups, and served 2 three-year terms. Dr. Philip is Immediate Past President of the International Association for Ambulatory Surgery (IAAS), and is the past Editor-in-Chief of the international journal "Ambulatory Surgery". She presented the Nicoll Lecture to the IAAS and the Frontiers Lecture to SAMBA. Dr. Philip has received the SAMBA Distinguished Service Award and her medical school's 2018 Distinguished Alumna Award.
Focus Areas
Ambulatory Anesthesia
Dr. Philip has published numerous research papers, review articles and book chapters on various aspects of ambulatory anesthesia science and practice, and she has spoken widely, nationally and internationally.
Professional Highlights
Honors and Awards
1966 New York State Regents Scholar, National Merit Scholar
1968-1969 Preseident, Queens College Biology Honor Society
1982 Special Aware, 36th New York Postgraduate Assembly for Exhibit "Microcomputer Based Tutorials: Interactive Teaching Tools for Anesthesia" (Co-author)
1989 The Wolrd Who's Who of Women
1991 Who's Who in Health & Medical Services
1996 Who's in the East
1996 Association of University Anesthesiologists
1997 Society for Ambulatory Anesthesia Research Competition, First Prize
1997 Who's Who in the World
1997-1998 Correesponding member, Bristish Association of Day Surgery
1998 Visiting Expert in Anaesthesia, Ministry of Health; Singapore
2000 Service Recognition Award from the National Ski Aptrol System in acknowledgement of Thirty Years of Service
2001 Who's Who in America
2001 The Contempory Who's Who
2003 Partners in Excellence Award to the BWH Ambulatory operationg Rooms Team (BK Philip, Team Leader and Nominator)
2003 Harvard Medidcal School, Excellence in Mentoring Award Nomination
2004 Distinguished Service Award from the Society for abmulatory Anesthesia. Presented "in recognition for Outstanding Achievement in Abmulatroy Anesthesia.
2004- Contempory Who's Who of Professionals
2004-2005 Guide to America's Top Physicians, Consumers' Research Council of America, Washinton, DC
2005 Leadering health Professionals of the World
2005 Best Doctor's in America
2006 Who's Who in Medicine and Healthcare
2006 Boston Magazine: The Top Doctors of Boston
2006 Guide to America's Top Anesthesiologists, 2006 edition. Guide to America's Top Physicians, Consumer's Research Council of America, Washington, DC
2006 Top 100 Professionals, Inaugural member. International Biographic Centre, Cambridge, England.
2007 Who's Who of American Women
2007 International Profiles of Accomplished Leaders (American Biographical Institue)
2007- Best Doctors in America database
2010 Service Recognition Award from the National Ski Patron System in acknowlegment of Forty Years of service:L
2013 James H. Nicoll Memorial Lecture: The Path of Ambulatory Surgery: Roots, Trees, and Stars. 10th International Congress, International Association for Ambulatory Surgery, Budapest, Hungary
2014 Scientific Program Committee, 2016 World Congress of Anesthesiologists, Hong Kong
2016 America's Best Physicians Directory
2016 Honary Member, Aoociocao Portuguesa de Cirurgia Ambulatoria (Portuguese Ambulatory Surgery Association), Portimao, Portugal
2017 Consultant, China Ambulatory Surgery Alliance, Beijing, China
2017 Fellow of the American Society of Anesthesiologists (FASA)
2018 Who's Who in the World 2018 Albert Nelson Mrquis Lifetime Achievement Award
2018 Commissao De Honra (Congressional Honor Committee) of the VII Iberian Congress of Ambulatory Suurgery, Lisbon, Portugal.
2018 Core Scientific Committee for the 2020 17th World Congress of Anaesthesiologists, Prague, CZ
2018 Distinguished Alumna Award, Upstate Medical University, State University of New York, Syracuse, NY
Academic & Hospital Appointments
Academic Appointments
1973 – 1974 Clinical Fellow in Medicine, Harvard Medical School, Boston, MA
1974-1976 Clinical Fellow in Anaesthesia, Harvard Medical School, Boston, MA
1976-1977 Research Fellow in Anaesthesia, Harvard Medical School, Boston, MA
1977-1985 Instructor in Anaesthesia, Harvard Medical School, Boston, MA
1985-1993 Assistant Professor of Anaesthesia, Harvard Medical School, Boston, MA
1994-2002 Associate Professor of Anaesthesia, Harvard Medical School, Boston, MA
2003- Professor of Anaesthesia, Harvard Medical School, Boston, MA
Hospital Appointments
1977-1980 Anesthesiologist, Boston Hospital for Women, Boston, MA
1980-1982 Associate in Anesthesia, Brigham and Women's Hospital, Boston, MA
1982- Anesthesiologist, Brigham and Women's Hospital, Boston, MA
Education & Training
1990-1994 – University of Wisconsin-Madison, BS/BA, Psychology/German
1992-1993 – Rheinishe-Wilhelms University (Bonn, Germany), Psychology/German
1997-2007 – University of Minnesota-Twin Cities, PhD/MD, Neuroscience
2008-2009 – University of Pittsburgh Medical Center, Internship, Medicine/Surgery
2009-2012 – University of Pittsburgh Medical Center, Residency, Anesthesiology
2012-2014 – Brigham and Women's Hospital/Harvard Medical School, Fellowship, Regional Anesthesia/Research
2015 – Harvard School of Public Helath, Postgrad. Epidemiology, Clinical Study Design
1969 B.A. Queens College, City University of New York, New York, NY (Biology, cum laude)
1973 M.D. Upstate Medical Center, State University of New York, Syracuse, NY
1973-1974 Medical Intern, New England Deaconess Hospital, Boston, MA
1974-1976 Junior Assistant Resident in Anesthesia, Peter Bent Brigham Hospital, Boston MA
1976-1977 Resident in Anesthesia, Peter Bent Brigham Hospital, Boston, <A
1994 AAMC Professional Development Seminar for Senior Women in Medicine, Association of American Medical Colleges, Washington DC
1999 Leadership Development for Physicians in Academic Health Centers, Harvard School of Public Health, Boston MA