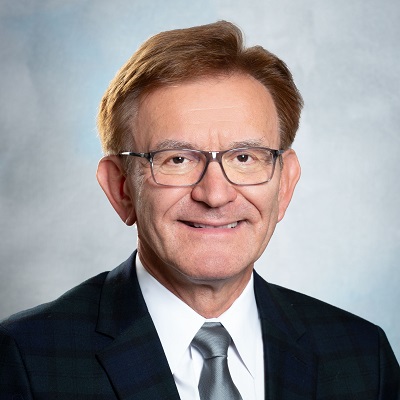 Dr. Gyorgy Frendl works with Dr. Alissa Sodickson in the perioperative pulmonary outcomes optimization group are using machine learning techniques to study if sarcopenia, measurable on preoperative abdominal and chest CTs alone or in combination with other risk factors, could predict postoperative complications for patients undergoing esophagectomy. The findings will enable an interventional study for perioperative optimization of patients using preconditioning protocols for the highest risk patients.  The work is done in collaboration with the Partners Center for Clinical Data Science [Rosenthal], the Pulmonary Division of Imaging AI team [Washko, San Jose Estepar], and the Thoracic Surgery Division [Wee, Steimer and Bueno]).
Dr. Gyorgy Frendl, Dr. Louisa Palmer, and Rush University collaborators conducted a care improvement study with health care volunteers and identified the most effective chlorhexidine skin cleansing methods yielding the highest residual chlorhexidine skin concentrations and the lowest residual skin bacterial counts to improve prevention of nosocomial infections, leading to the change of practice for chlorhexidine cleansing methods at BWH and elsewhere.
The Pulmonary Mechanics Interest Group is studying lung mechanics for patients with COVID-19-induced lung injury and those with non-COVID ARDS. Together with the Pulmonary Division, Respiratory Therapy and MIT scientists, they perform detailed individualized measurements of lung mechanics, following up on observations that the mechanics of these seemingly similarly injured lungs are very different and require more individualized ventilator management than current protocols allow. This is a prospective individualized lung mechanics measurement-based observational study (Drs. Pentakota, Formanek and Frendl; Collaborators: Drs. Keller, Smith, and Srinivasan-MIT).
The POCUS Interest Group is performing serial lung and cardiac point-of-care US (POCUS) exams for critically ill, ventilated COVID-19 patients to help understand the decline of cardiac function and the correlation between lung US imaging and clinical course of lung injury throughout the course of ICU stay (Drs. Palmer, Formanek, Finkel, Gross, Frendl). Another study of this group is aimed at validating an AI-based automated ejection fraction (EF) assessment algorithm for bedside US exams of the heart in patients with normal and impaired EF and in euvolemic state and hypovolemic shock (Drs. Frendl, Palmer and OnSite Inc.).